Cochran Alumni Reach Highest Levels of Philippines Agriculture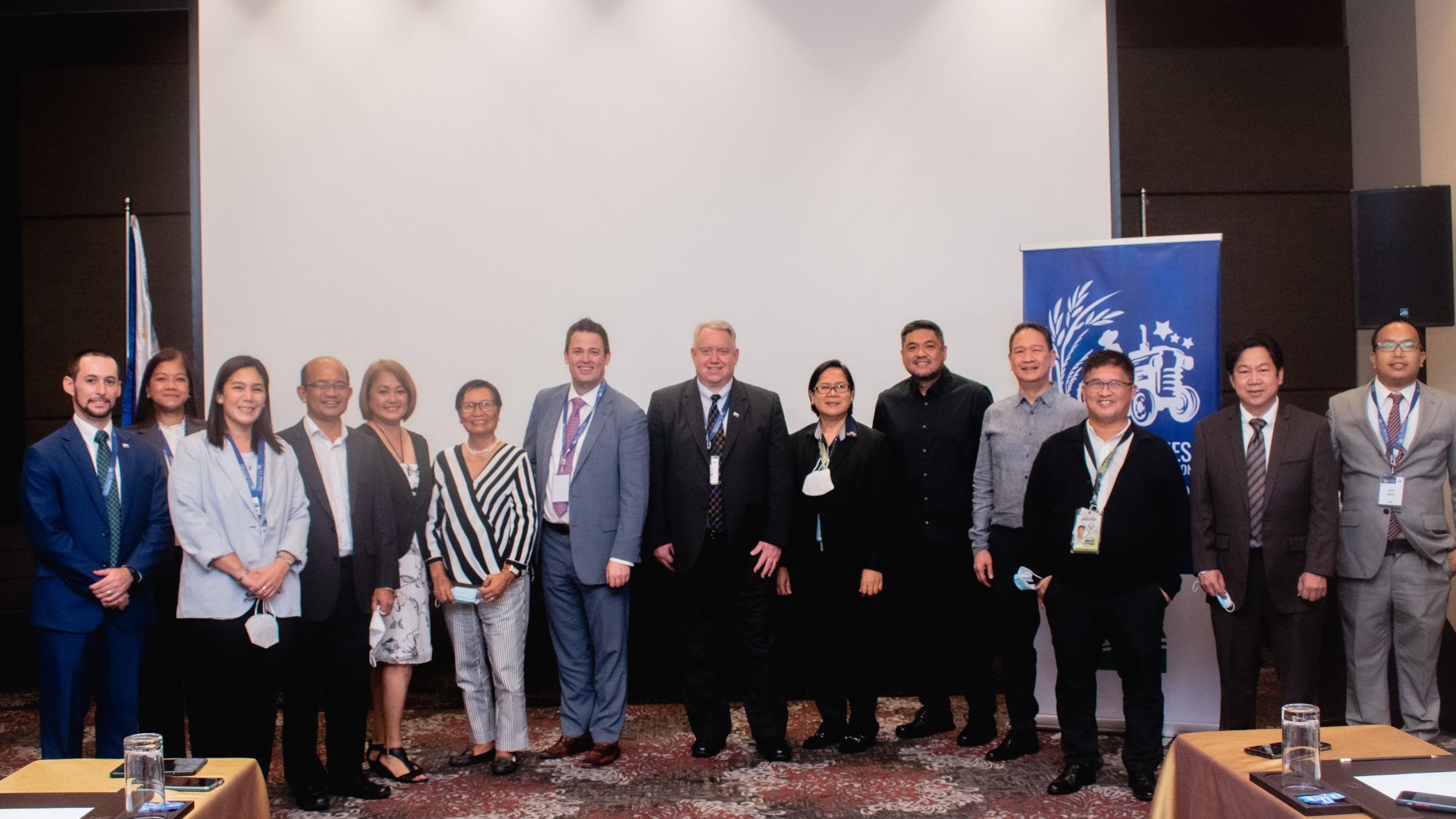 A number of the Philippines' top agricultural leaders share a common bond: They are alumni of USDA's Cochran Fellowship Program. Nine former Cochran fellows came together during the recent USDA trade mission in Manila to discuss how their fellowships – which included the opportunity to travel to the United States and learn from U.S. universities, government agencies, and private companies – helped shape not just their careers, but also the future of agriculture in their home country.
Dr. Saturnina "Nina" Halos is president of the Biotechnology Coalition of the Philippines. Back in 2001, she participated in a Cochran fellowship focused on biotechnology and food safety. She has since spent her career advocating on behalf of biotech research and education.
"When we came home, we were able to set up a capacity-building program in the Department of Agriculture. From there on, I also helped craft a research program on biotechnology and integrate biotechnology in all biology classes in schools," she said. In addition to helping establish biotechnology centers and facilities, Halos has done things like advocate for the executive order that created an annual biotech week in the Philippines each November.
Halos said she appreciates the multidisciplinary approach that a Cochran fellowship provides, in that it integrates "different programs like policy, information, and research and development. These are very useful aspects of the Cochran program."
Among the Cochran program's private-sector participants are three members of the Dizon family, who are leaders in the Philippines cold storage sector. They own and operate Koldstor Centre Philippines, Inc., a cold storage enterprise that carries U.S. pork, beef, poultry, and dairy products.
Lloyd Dizon, the company's business development manager, participated in a 2007 fellowship focusing on cold chain post-harvest practices. His father, company president Anthony Dizon, completed a similar training in 2013 and is now president of the Cold Chain Association of the Philippines. The association, which FAS helped establish through the Emerging Markets Program, advocates for best practices, standards, policies, and regulations in food storage and handling.
In addition, Lloyd's brother, Marc, took part in a 2019 Cochran fellowship focused on agricultural trade advocacy and consumer welfare, accompanied by a number of agricultural journalists. He serves as Koldstor's executive vice president and general manager.
"The main purpose of us doing the Cochran Fellowship Program was to benchmark ourselves on new learnings and best practices on implementing new technologies," Lloyd Dizon said.
Dr. Alicia Ilaga is not only director of the climate adaptation and mitigation program within the Philippines Department of Agriculture, but also a two-time Cochran fellow. In 2001, she was part of a group that came to the United States to learn about developing a regulatory framework for biosafety policies.
"Because of these biosafety procedures, we can now taste and see and feel how we can increase the yield and income for farmers with the use of biotech corn and other products," she said.
In 2006, she took part in a second Cochran fellowship focused on intellectual property rights (IPR). As a result, she and her colleagues were able to establish an IPR office at the Philippine Rice Research Institute (or PhilRice).
Arnel Almira is president of All Foods Asia and serves as director of the Philippines Meat Importers and Traders Association. He spoke about how his 2014 fellowship, focused on consumer advocacy, has made a difference not only in his career, but in the lives of Filipino consumers.
"A big portion of Filipinos' income goes to food. One of the drivers of inflation is food. Knowing that inflation affects Filipinos' food, we have been actively engaged with stakeholders so that we can be in the best position to know if the prices of meat will rise or decline," Almira said.
Joselito Antioquia, the officer-in-charge chief of the Philippines' National Plant Quarantine Service, discussed how his fellowship, which focused on quarantine inspection, helped pave his career path and has also benefitted public health and agricultural sustainability in his home country.
"The Cochran fellowship broadened my prospective, my knowledge, and interest of quality concerns and how inspections are conducted in a U.S. setting," he said. "I hope more government policy makers and researchers will be able to participate in the Cochran fellowship to acquire the knowledge to deal with risks to agriculture abroad and the difficulties surrounding them, so that we can better work together to keep humans healthy and keep agriculture sustainable."
According to FAS Administrator Daniel Whitley, the Cochran Fellowship Program offers tangible benefits not just for the participants and their home countries, but for the United States as well.
"The Cochran Fellowship Program touches on so many critical areas – among them food security and availability, agricultural sustainability, international trade, and climate change adaptation and mitigation. Our Cochran alumni in the Philippines have obviously gone on to do amazing things in government and industry, not only benefiting their home country but also strengthening their trade ties with the United States," Whitley said. "It's clearly a 'win' for all of us."