Record Forage Exports Despite Record Domestic Prices
Summary
Rising global demand for premium forage products, along with higher prices, drove U.S. exports of hay to a record $1.25 billion in 2012. From 2008 to 2012, hay export value rose 93 percent while volume increased 39 percent. During the same time span, average domestic hay prices outpaced export prices, increasing 44 percent and 39 percent, respectively. However, due to market fragmentation, higher prices in the Midwest have not undercut demand for export forage sourced from the western United States.
Production Shortfall in Midwest Doesn't Curb Exports
A decline in U.S. hay production during the 2012 crop year (May through April) drove prices higher for ranchers and dairies across the country. Sixty-three percent of the nation's hay acreage, centered in the Midwest, wasin an area that experienced drought. U.S. hay production fell nine percent to 109 million metric tons (MMT), hitting the lowest production level since 1964 and the lowest yield since 1976. Alfalfa production, which accounts for approximately 40 percent of export volume, is estimated at the lowest level since 1953 while production of other grass hay is at the second-lowest level since 1998. At 69 MMT, hay stocks are at the lowest level since 1957. 
However, the hay production shortfall was not an obstacle to record export performance in Washington, California, and Oregon – where 95 percent of hay exports originate. Overall 2012 hay production increased 97,000 metric tons (MT). Additional acreage in California offset yield declines in Washington and Oregon. U.S. export forage originates in areas close to West Coast ports and accounted for less than four percent of national production in the 2012 crop year.
U.S. Hay Markets in East Asia and the Middle East
U.S. hay shipments set new records to the top five markets in 2012.Japan, which accounts for about half of U.S. hay exports, imported nearly $600 million in 2012 – an 18-percent increase in value despite a 5-percent decline in volume. Japanese dairy farmers are major users of U.S. hay, and demand is expected to climb despite higher prices. Meanwhile, Chinese imports spiked 84 percent in value compared to 2011, while volume increased 78 percent. U.S. alfalfa'sreputation for quality and ability to improve dairy yields drove Chinese demand. In the Middle East, import demand is also rising due to government mandated water conservation efforts that limit domestic production.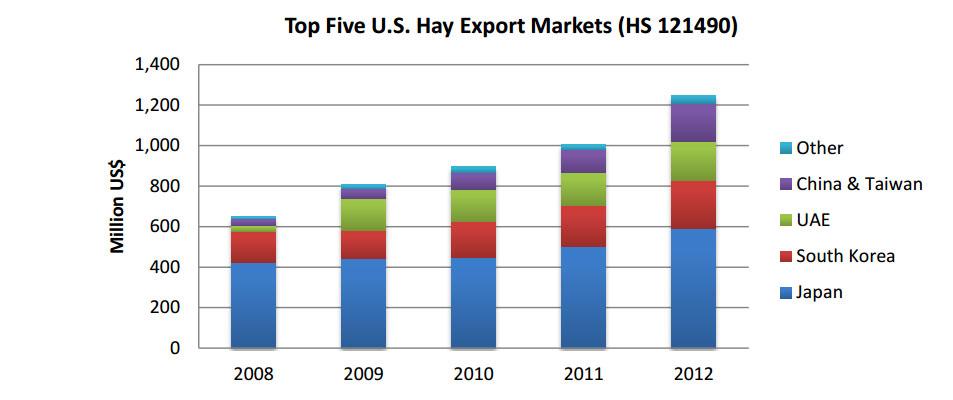 Favorable Prospects for Future Growth
The growth outlook is promising for U.S. forage exports to the Middle East and East Asia. In the United Arab Emirates (UAE), by far the largest hay importer in the Middle East, the government supports forage imports for non-commercial livestock owners in the Abu Dhabi Emirate. Officials intend to expand the scheme to benefit farmers in other Emirates, further increasing the demand for hay imports. Forage production in Saudi Arabia will completely phase out by 2016, resulting in another emerging market for U.S. exports. In East Asia, recognition of the role premium forage plays in boosting dairy production continuesto shape growth prospects for U.S. hay. U.S. hay exports face increasing competition from other suppliers, particularly Spain and Australia, but should continue to grow due to high quality and efficient production practices that result in more cuttings per season, which expands exportable supplies.
Market Development Initiatives Support Growth
Through its partnership with FAS, the U.S. Forage Export Council (USFEC), which represents 80 percent of U.S. exports of straw and hay, has made significant contributions to improve growth prospects. In recent years, USFEC opened the Chinese market for alfalfa by working closely with U.S. and Chinese governments to conduct inspection tours and negotiate protocols. In the Middle East, USFEC is leveraging FAS market development programs to strengthen ties with local governments. In mature markets like Japan, USFEC opened communication channels to end-users through articles in trade magazines targeted to the beef and dairy industries.