Opportunities for U.S. Agricultural Products in Chile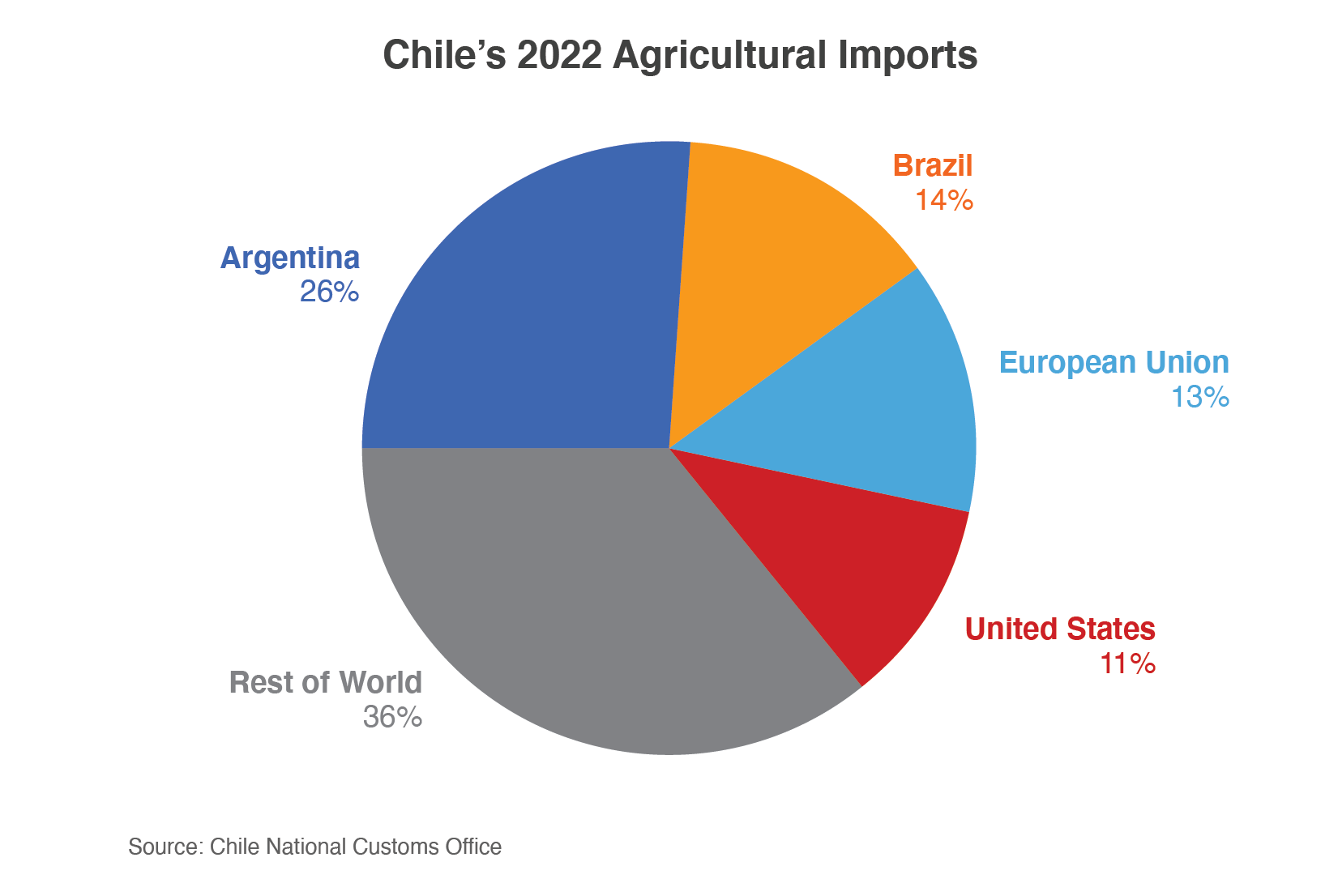 Executive Summary
Chile is the second-largest South American market for U.S. agricultural products. Solid political institutions and a stable macroeconomic environment, combined with high consumer purchasing power, make Chile a lucrative market for U.S. producers of wheat, cheese, pet food, alcoholic beverages, and other consumer-oriented products. Since 2015, when all remaining duties were removed as part of the terms of the U.S.-Chile Free Trade Agreement, U.S. agricultural exports to Chile have increased 33 percent to $1.1 billion. Last year, consumer-oriented product exports reached $690 million, comprising 63 percent of all U.S. agricultural exports to Chile. 
Macroeconomic Perspective
According to the World Bank, Chile has the highest gross domestic product per capita in South America at $28,372 (in terms of purchasing power parity, or PPP).[1] Significant purchasing power drives demand for high-value, consumer-oriented imports. Chile's consumer spending grew at 3.7 percent (compound annual growth) from 2017 to 2021, the third-highest rate in Latin America. Through 2027, IHS Markit projects that consumer spending will continue to grow at 1.8 percent annually. IHS also forecasts the Chilean peso will gain as much as 4 percent against the U.S. dollar by the end of 2023, providing a favorable environment for U.S. exports. 
Consumption Trends and Market Drivers
According to the U.S. Department of Agriculture, Foreign Agricultural Service's (FAS) Global Agricultural Information Network reports, Chile features a modern and dynamic food retail sector comprised of more than 1,300 supermarkets, mid-sized grocery stores, convenience stores, gas station markets, and small independent neighborhood stores. Retail food sales are projected to increase 2.3 percent per year through 2026 with increasing demand for premium processed and healthy foods. Supermarket sales represent 56 percent of all retail food and beverage purchases and totaled more than $14 billion in 2021. Walmart, the largest supermarket chain in Chile, operates more than 250 stores with a market share of approximately 13.1 percent of total retail value. Cencosud is the second-largest player with 12.8 percent of retail value sales. Chile lifted COVID-19 restrictions in 2022, helping foodservice sales increase by 15 percent to $1.2 billion. Restaurants and bars also recovered from COVID-19 shutdowns, returning to 2019 sales levels in 2022.
Trade Policy
Chile has 31 free trade agreements (FTAs) with 65 economies worldwide, making it one of the most open economies in the world. In addition to FTAs with the European Union, China, and Central America, Chile is a member of the World Trade Organization and an associate member of the Southern Common Market (MERCOSUR). Chilean regulations are generally fair and transparent. Recently, Chile restricted single-use plastics in food service establishments, including supermarkets, restaurants, corner stores, and fast-food chains. Single-use plastic bottles will not be subject to the immediate ban but will be required to contain an increasing amount of recycled material beginning in 2025.
Customs clearance in Chile is generally fast and unproblematic, although U.S. exporters should ensure products are aligned with current Chilean regulations for straightforward entry. All labels, including nutritional labels, must be in Spanish. Potential exporters should also be aware that shipments valued above $3,000 require the use of a registered customs agent. Many large supermarket chains import directly from foreign suppliers and allow products to have a countrywide presence. FAS Santiago maintains listings of potential importers as well as sector-specific information to facilitate new product entry. For additional information, please refer to the most recent Exporter Guide and FAIRS Report.
Prospects for U.S. Agricultural Exports
Wheat
U.S. exports of wheat to Chile nearly tripled from an exceptionally low level in 2021 to reach $102 million in 2022. Because domestic production only accounts for half of consumption needs, Chile is a net wheat importer. Argentina is the main supplier due to its close geographic proximity, with Canada and the United States being the second- and third-largest suppliers, respectively. Average U.S. wheat prices fell below average Argentine prices during the second half of 2022, resulting in a sizable uptick in U.S. exports from June to December. According to FAS Santiago, demand for imported wheat is expected to remain high in Chile due to static domestic production and the country's sizable appetite for bread. Chile's growing aquaculture sector imported 250,000 metric tons of U.S. hard wheat for feed use in 2022. FAS Santiago expects demand for wheat as an ingredient in aqua feed to continue to grow.
Cheese
U.S. exports of cheese to Chile rose 79 percent from $33 million in 2015 to $59 million in 2022. The United States has the second-highest market share at 23 percent, behind only Argentina. As Chileans return to social gatherings after the COVID-19 pandemic, Euromonitor projects retail value sales of cheese in Chile will increase at a compound annual growth rate of 4 percent through 2027. It is common when having parties with family and friends in Chile to serve a diverse range of cheeses, typically with wine. Foodservice uses U.S. cream cheese in sushi rolls. Chileans are open to new varieties of cheese from around the world, with a top preference for hard cheeses.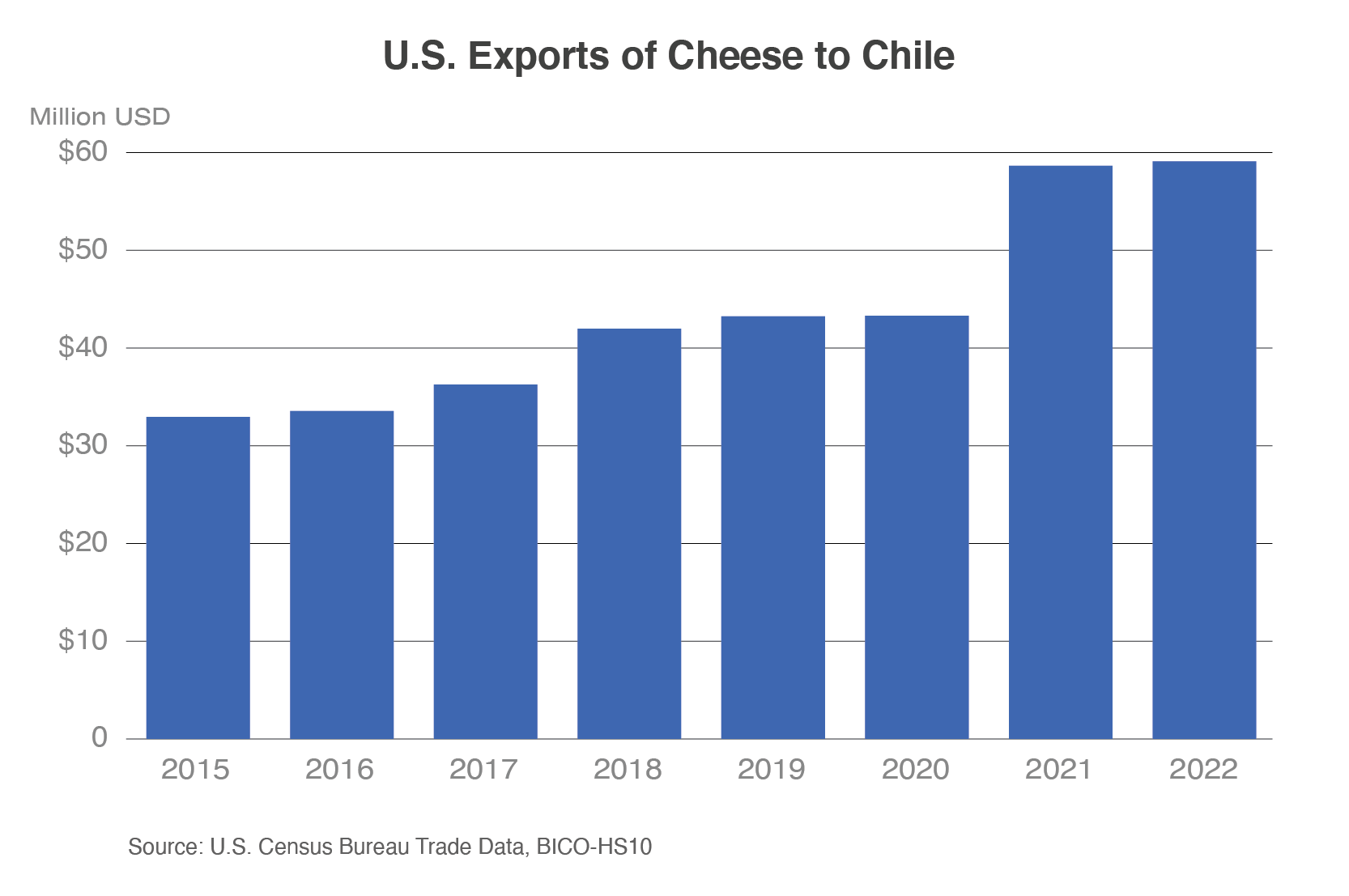 Dog and Cat Food
U.S. exports of dog and cat food to Chile have nearly tripled since 2015, from $13 million to more than $36 million in 2022. During the COVID-19 pandemic, pet ownership increased in Chile, with animals playing an emotional support role in the absence of social interaction due to strict lockdowns. Because pets are increasingly viewed as extensions of human families, consumers' preferences are shifting toward premium pet food options. Retail sales of dog food in Chile are projected to increase 29 percent to more than $1 billion annually by 2027, while cat food purchases are forecast to rise 45 percent to more than $600 million per year. The Chilean pet food market is primarily comprised of imports, with high shipping prices on European and Asian products potentially opening additional shelf space for U.S. pet foods.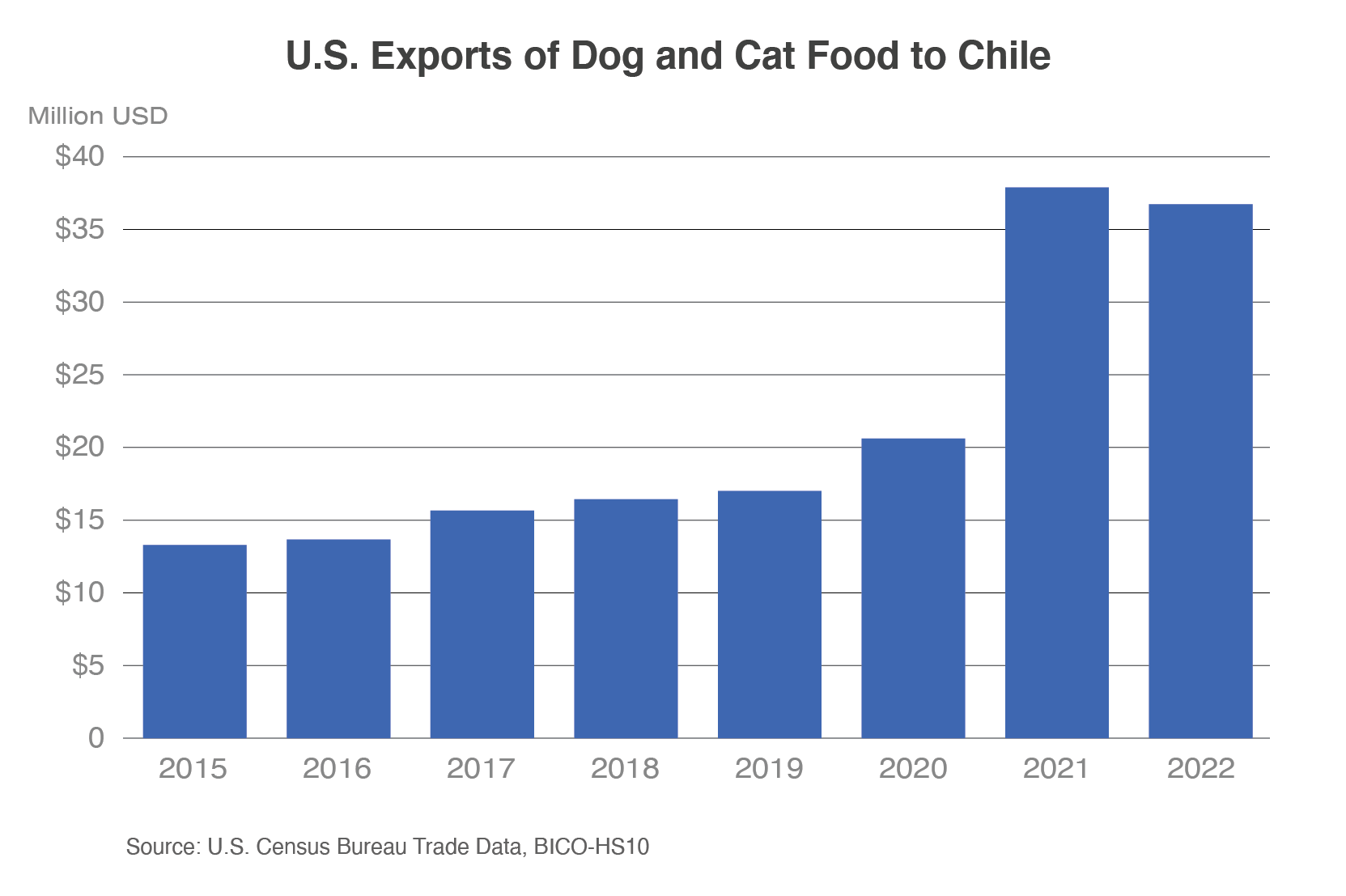 Alcoholic Beverages
U.S. exports of alcoholic beverages to Chile more than doubled, from $63 million in 2015 to $158 million in 2022. Last year, beer comprised 73 percent of U.S. alcoholic beverage sales to Chile, driven by increasing regional consumption of mid-priced and premium lagers. Total volume sales of beer in Chile are projected to grow by 20 percent by 2026 to a total of 1.4 billion liters annually. In February 2022, the Chilean Ministry of Agriculture granted full equivalency to U.S. beer, removing testing requirements that previously held shipments in port for more than a month. U.S. distilled spirits have also grown in popularity in Chile, as evidenced by a 62-percent increase in the volume of U.S. whiskies imported since 2015.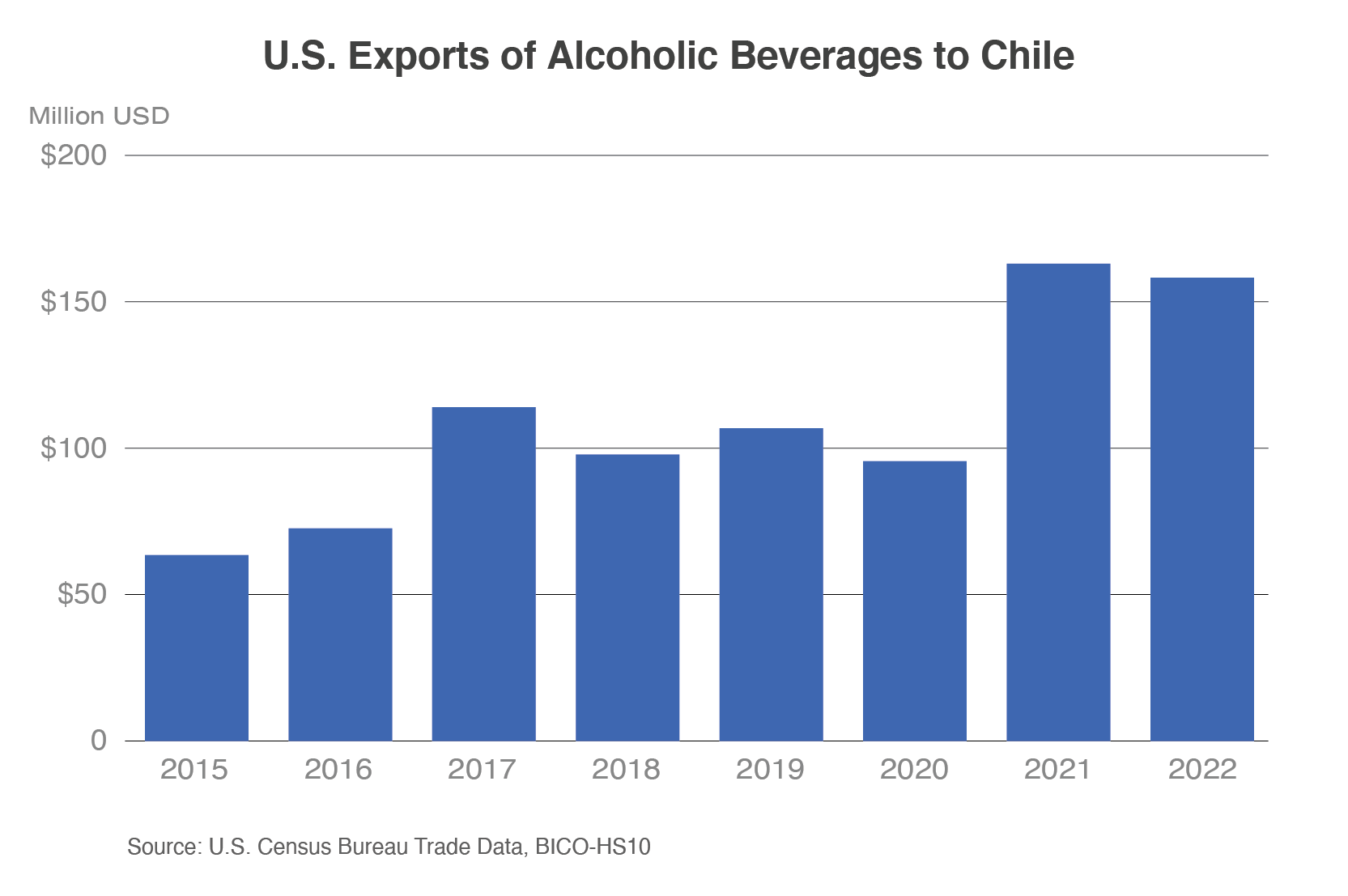 Food Processing Ingredients
Chile's food and beverage processing industry represented 15 percent of Chile's exports in 2022, at more than $15 billion. The United States is known among Chilean companies for providing high-quality, innovative products and is currently the second-largest supplier of food ingredients to Chile, behind neighboring Argentina. Chilean mills use U.S. wheat to manufacture bread, pasta, and other bakery products. Food preparations, such as colored syrup and gelatin, are also imported from the United States to manufacture processed foods. In the aftermath of labeling regulations on foods high in sugar and other macronutrients, demand for healthier ingredients has increased in Chile, which has galvanized a search for new formulations and ingredients to avoid the mandatory labeling associated with the regulation. To enter the Chilean market, FAS Santiago advises U.S. companies to work with importers/distributors or export directly to Chilean companies.
Other Consumer-Oriented Products
U.S. exports of condiments and sauces have nearly doubled since 2015, increasing from just $30 million to $57 million in 2022, with about half of the value derived from mayonnaise. Hellmann's has the largest market share of any condiment brand in Chile at 16 percent and launched a high-quality, plant-based mayonnaise in the country in 2019. Euromonitor projects retail value sales of condiments and sauces will grow at a compound annual rate of 8 percent through 2027, driven by demand for premium ingredients and novel flavors.
The United States exported $174 million of animal proteins to Chile in 2022, with beef, poultry, and pork, respectively, comprising 37 percent, 32 percent, and 27 percent of the total. Meat exports are down considerably from a high of $284 million in 2019, but prospects remain positive as animal protein consumption continues to increase in Chile.
Tree nuts were the 10th-largest consumer-oriented export from the United States to Chile in 2022, totaling $24 million. Almonds, which accounted for more than 75 percent of tree nut sales, are favored by Chileans as ingredients in confectionery.
Conclusion
Chile's high consumer purchasing power and growing retail economy provide fertile ground for market expansion in the second half of the 2020s. Demand for natural, healthy, and innovative foods is accelerating opportunities for producers of specialty and plant-based products. Promotional activities to increase awareness among Chilean consumers and importers as to the variety and quality of U.S. agricultural products will further improve prospects for U.S. exporters.
---
[1] PPP accounts for differences in the prices of specific goods across countries to measure absolute purchasing power.