Tapping Export Opportunities in Central America's Northern Triangle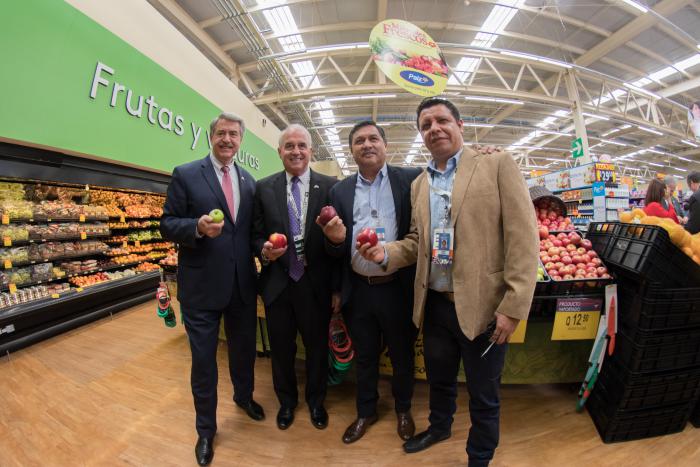 Viewing Washington State apples and other high-quality U.S. produce for sale at the Wal-Mart-owned Paiz Supermarket in San Lucas Sacatepéquez, Guatemala, are (left to right): Under Secretary Ted McKinney, Washington State Department of Agriculture Director Derek Sandison, Wal-Mart Guatemala Supermarkets Division Manager Erick Cruz, and Wal-Mart Guatemala Purchasing Manager Mario Santizo. 
FAS's recent trade mission to Central America's Northern Triangle is poised to rank as one of the most successful in history, yielding $30 million in projected 12-month export sales for a host of U.S. farm and food products ranging from seafood to fresh produce to flavorings to bulk commodities.
Representatives from 30 U.S. companies, four trade associations and seven state departments of agriculture joined USDA Under Secretary for Trade and Foreign Agricultural Affairs Ted McKinney on the February 26-March 2 mission, where they participated in 450 business-to-business meetings with potential customers from Guatemala, Honduras and El Salvador.
Since implementation of the CAFTA-DR trade agreement, U.S. agricultural exports to the three Northern Triangle countries have doubled, and McKinney noted that American products enjoy a reputation in the region for safety, quality and availability.
"We heard it at the supermarkets. We heard it at the distribution hubs we visited. We heard it from the importers buying our products. There is a lot to say about the reputation for quality and safety that U.S. products carry," he said.
Related Tags
News Type
Features